Pinnacle Farm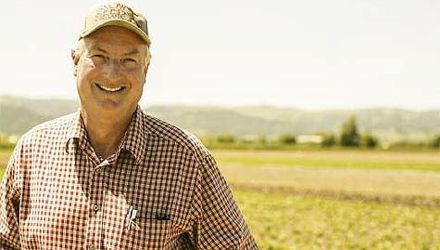 Type:
Farmer
Owner:
Phil and Katherine Foster
Phone:
831-623-9422
Email:
pfoster@pinnacleorganic.com
Website:
http://www.pinnacleorganic.com/
People:

Pinnacle Farms employs 40 workers full time, year round while another 15 full-time, seasonal employees return each year. They pay their employees a fair wage, offer benefits, and treat staff with respect.

Bio:

Phil and Katherine Foster farm 300 acres of C.C.O.F. certified organic vegetables and fruit on two ranches near San Juan Bautista and Hollister, California. They have been growing food for Santa Cruz County residents and beyond for decades specializing in melons, sweet corn, peppers, garlic and onions among others. The Fosters have a dynamic understanding of what determines a responsible, high quality business and name and integrate many responsible practices including alternative energy - the farm's tractors and trucks are fueled with B-99 Biodiesel and they harvest solar power.

Land:

200 acres near Hollister, CA (Hot Crops)
50 acres in San Juan Bautista, CA (Cool Crops)

Pest Management:

The Fosters also practice biological pest control by attracting beneficial insects with insectary plantings and hedgerows. They also construct owl boxes, plant hedgerows and spraying compost tea. Their goal is to minimize spraying even though the sprays are organic. Pinnacle tries to anticipate insect and disease problems and use a multi-faceted approach to prevent pest issues using organic techniques. Biological control is always the primary goal.

Soil:

Holding the ecosystem as central to the sustainability of farming, the Pinnacle team builds the soil with cover crops and compost. They make all of the compost needed for the farm, 4 acres are dedicated for that purpose. Their compost is made on the farm and compost materials include green waste from Bay Area cities, culled vegetables and animal manures.

Water Use:

They decrease water consumption by using drip irrigation whenever possible and generate solar power.

Weed Control:

Hoeing and manual extraction.

Credits:
Photo by Ted Holladay.