Welcome to the Santa Cruz Farmers' Markets' Recipe Collection
Host to a membership of more than 100 farmers and food artisans, we've got serious connections in the recipe department. With our finger on the pulse of what fruits and vegetables are in season on a weekly basis, we can point you in the right direction of novelty and freshness. Accessing the creativity and skill of artisan chefs who understand flavor combinations, we are here to assist you in preparing that perfect meal.
Look here for delicious, healthy and simple recipes centered around our region's thriving agricultural, livestock and seafood communities. Contributors include farmers, local chefs, community members, food bloggers and my grandma Britta. We hope these recipes will grow your love relationship with local agriculture and inspire your next visit to the farmers' market.
Recipes
Sort by Course: Appetizers Drinks Entrees Salads Soups All
Sort by Season: Spring Summer Autumn Winter
Latest Recipe
Spring Greens Salad with Black Beans and Apricots
Ingredients:
4 Fresh apricots
3 to 4 ounces Baby arugula, spinach, tatsoi, or mizuna [or, preferably, a combination]
1 15- to 16-ounce can black beans, drained and rinsed
A good handful of sprouts [pea shoots, broccoli sprouts]
3 to 4 radishes, thinly sliced
Handful of radish greens, chopped
Juice of 1/2 lemon
1/4 cup raspberry vinaigrette
Salt and freshly ground pepper to taste

2 to 3 tablespoons toasted pumpkin or sunflower seeds for topping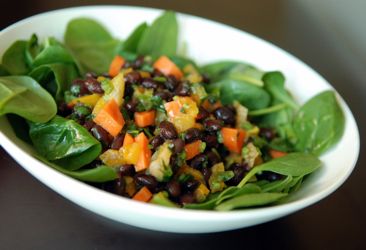 Contributed by: Nova Atlas
Source: From the book, Wild About Greens
Serves 4-6
Preparation
1. Cut the apricots in half lengthwise and remove the pits. Cut each half into quarters lengthwise.
2. Combine the apricots with all the remaining ingredients except the seeds in a serving bowl and toss together. Sprinkle the seeds over the top and serve.
Most Recent