Recipes
"Leche de Tigre" Lime-Marinated Ceviche
Ingredients:
3 cups lime juice
½ cup roughly chopped celery
3 cloves garlic
½ cup minced ginger
5 tablespoons sugar
1 habanero pepper, minced (optional)
3 cups ice
½ cup red onion hearts
2 pounds halibut (or other local firm fish), scaled, skinned, and chopped
1½ tablespoons salt
5 sprigs cilantro, chopped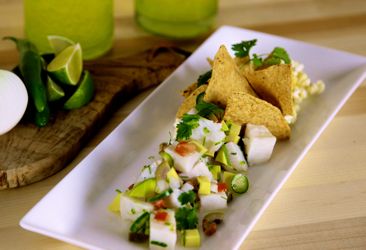 "Leche de tigre" ("tiger's milk") is a traditional Peruvian marinade for ceviche. This recipe can be made with any fresh, local, firm fish. Please refer to Monterey Bay Aquarium Seafood Watch's sustainability ratings, or ask your fishmonger what is locally available.
Contributed by: Alejandro Morgan, Lolinda
Source: www.cuesa.org
Serves 6
Preparation
Put the lime, celery, garlic, ginger, sugar, habanero, and ice in a blender. (Blending ice cubes into the marinade helps to keep the fish fresh.) Blend until everything is well mixed. Add the red onion hearts and pulse for 2 seconds.
Marinate the fish in the mixture for 2 minutes.
Strain marinade off of the fish and serve garnished with salt and cilantro.
Related Recipes