Recipes
Blackberry Gin Fizz
Ingredients:
1/4 cup fresh blackberries
2 tablespoons sugar
1/2 cup (4 liquid ounces or just shy of 3 shots) gin
1/4 cup fresh lime juice (from two juicy limes)
Club soda
2 sprigs sweet basil or 2 thin lime wedges (for garnish)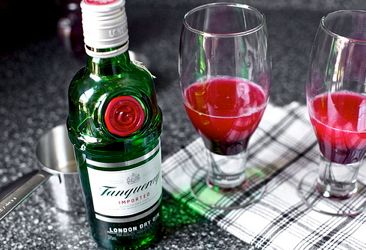 This is where the blackberry gin fizz comes in, all of the fizzy gin but the fruit isn't "infused;" it's just there. And yeah, it's a bit fruitier than the classic, and it's also a lot prettier. It's surprisingly tart and really refreshing and did I mention it was once a breakfast drink? What, you couldn't drink gin for breakfast? Could you eat blackberries? What about a blackberry spritzer, with lime juice and a little sparkling water? What if it was the liquid format of this totally-acceptable-for-breakfast cake? Right, then. I think you know what needs to be done.
Contributed by: Deb
Source: http://smittenkitchen.com/
For 2 tall drinks
Preparation
Purée blackberries and sugar in a blender until as liquefied as possible. Strain purée through a fine-mesh sieve or tea strainer into two tall or collins-style glasses; discard seeds in sieve.
Divide gin and lime juice between glasses and stir to combine.
Add ice to glasses then top each with soda and a sprig of basil or wedge of lime. (Might need another quick stir to combine.)
Share with someone you like.
Related Recipes