Windmill Farm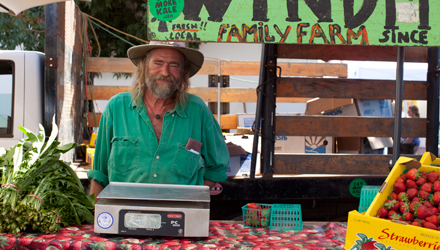 Type:
Farmer
Owner:
Ronald Donkervoort
Phone:
831-336-2358
Contact:
P.O. Box 441
Ben Lomand, CA  95005
Website:
http://www.youtube.com/watch?v=J2g7J_WoeVI
People:

Three to four full-time employees as well as help from Ronald's children. In 2013 his daughter Mayan joined him to work part-time on the farm and has been increasingly involved ever since. Ronald's grandchildren are also a staple of the Downtown Santa Cruz Farmers' Market.

Bio:

Truly a small Santa Cruz community farm, Windmill specializes in heirloom fruit and vegetable varieties. They believe that the original strains of food plants need to be recognized not only for their genetic importance but also to preserve their presence in modern farming practices.

About:

Born and raised in Holland, Ronald found his first job at a tomato/flower farm there. At that young age, he was not ready to get 'stuck' as a farmer quite yet so he travel the world for over a decade. On his travels Ronald was inspired by small family farms and decided to start his own farming adventure in 1987.

Land:

10 acres in Moss Landing.

History:

Ronald leases land for his farm and has been in various locations over the years. His current 10-acre plot overlooks the ocean in Moss Landing between the Pajaro and Salinas rivers.

Pest Management:

Ronald uses compost and cover-cropping to improve his soil and implements a strict crop rotation schedule. He grow crops that are suitable for the climate as to avoid unnecessary battles.

Soil:

Windmill's soil is light colored, sandy, loamy, silty and holds the water well.

Water Use:

Everything is on drip tape.

Weed Control:

Hoeing.