Sea to Sky Farm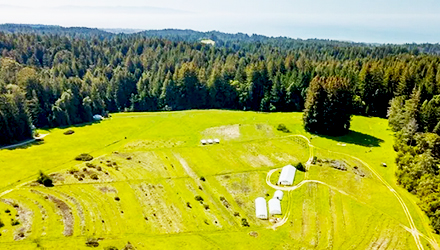 Type:
Farmer
Owner:
Chris and Dana Laughlin
Phone:
831-419-7773
Website:
https://seatoskyfarm.com/
Facebook:
https://www.facebook.com/seatoskyfarmsantacruz/
About:

Sea to Sky farm is located in northern Santa Cruz County in Bonny Doon. It is a 24 acre CCOF certified organic fruit, vegetable and herb farm, located 10 minutes from the ocean at 1600' in elevation, surrounded by coastal redwoods with natural springs, and sites of Native American historical significance. The farm was started by Chris and Dana Laughlin on Thanksgiving of 2018.

Chris comes from four generations of family farming – her great grandfather, grandfather, father and both brothers are farmers. Chris and Dana's backgrounds includes nonprofit ocean conservation, wildlife biology, old growth canopy research, backcountry guiding, and youth conservation corps work in Yosemite National Park.

The mission at Sea to Sky Farm is to use sustainable farming practices to provide healthy, organic superfoods to the local Santa Cruz community and bay area, while honoring and protecting the land, watershed, and Monterey Bay National Marine Sanctuary.