RoliRoti Gourmet Rotisserie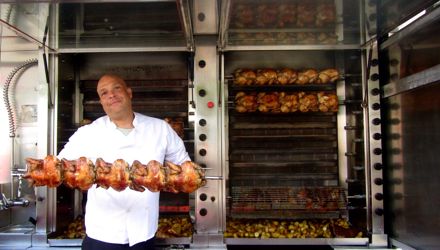 Type:
Artisan
Owner:
Thomas Odermatt
Phone:
510-780-0300
Email:
info@roliroti.com
Contact:
PO BOX 56534
Hayward, CA  94545
Website:
http://www.roliroti.com
People:

Thomas employs 28 people.

Bio:

Herb infused, free range rotisserie chicken, organic rosemary fingerling potatoes, tender Sonoma Valley lamb and juicy, crispy porchetta are just a few of the tantalizing delights that have earned Roli Roti the nickname, 'Grandfather of Gourmet Street Food'.

About:

Everything is cooked on the rotisserie grills in front of customers and served fresh fresh fresh to them.

Sourcing:

Chickens from Pitman farms and potatoes from Zuckerman farms.

History:

Thomas Odermatt founded RoliRoti in 2002 in the SF Bay Area after working in his family meat business in Switzerland and studying management and marketing in California.