Fruition Brewing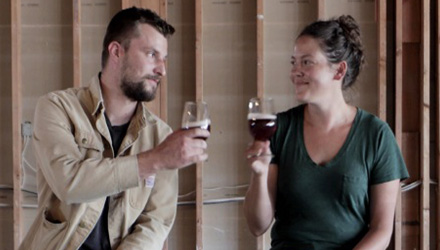 Type:
Artisan
Owner:
Tallula Preston and David Purgason
Website:
https://www.fruitionbrewing.com/
About:

Fruition Brewing is the vision of David Purgason and Tallula Preston, who met through mutual friends at Seven Bridges Organic Brewing Supply. They bonded over the love of beer, and the desire to create a space where old and new friends can gather around great beer. Fruition beer is brewed on a 7 barrel system (220 gallon), built from a variety of repurposed wine and dairy tanks, as well as a custom built direct-fire kettle.

David developed a passion for brewing while studying sustainable agriculture at UC Santa Cruz. His thesis was titled "The Sustainability of Craft Beer in California". After home brewing, he began brewing professionally at the Boulder Creek Brewing Company pub. More recently, he was a brewer and distiller at Venus Spirits. Tallula heads up business operations, and ensures quality in every batch of Fruition beer. She started working at the organic brew supply shop, Seven Bridges Cooperative, in early 2013, moving up from a production employee to become the General Manager in 2015. With brewing, management and service experience, Tallula wears many hats - and wears them well.

Sourcing:

Fruition Brewing strives to utilize sustainable, organic, and local ingredients from the world class farmers in Watsonville and the surrounding counties. They source ingredients from Admiral Maltings, Akiyama Hop Yard, B & R Farms, Coastal Moon Farm, Giga Yeast, Dirty Girl Produce, JSM Organics, Gizdich Ranch, Ox and Willow Farm, and many others. Fruition's spent grain goes to the lucky herd at Garden Variety Cheese.