Laurel Canyon Farm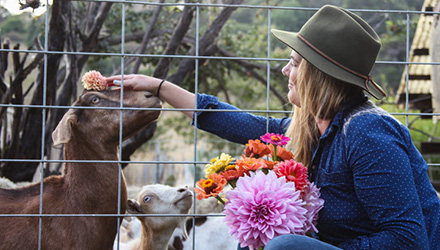 Type:
Farmer
Owner:
Jessica De Faymoreau
Phone:
(831) 325-9341
Email:
jessica@laurelcanyonfarm.com
Website:
https://www.laurelcanyonfarm.com/
Facebook:
https://www.facebook.com/10157015001496530
About:

Laurel Canyon Farm is a small family-run farm located in the mountains of Soquel, CA. They specialize in growing unique, specialty heirloom cut flowers, vegetable starter plants and raising Navajo Churro, a rare heritage breed of sheep for wool products. Laurel Canyon grows seasonal flowers on just two acres of land. Owner Jessica De Faymoreau has had a passion for farming for over fifteen years and studied organic farming in college. The farm was established in 2018 and continues to focus on growing cut flowers using organic practices and sustainable methods.

Laurel Canyon sells flowers for farmers markets, local florists and natural food stores in the Santa Cruz County area. They are also working on a breeding program with the goal of offering seed packets. Aside from direct sales to customers Laurel Canyon offers design services for special events. They are a business committed to providing quality products to customers with an emphasis on living in harmony with the environment. We are excited to have them selling seasonally at the Scotts Valley Farmers' Market.