Flowers at the Sea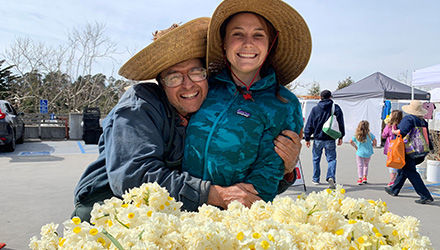 Type:
Farmer
Owner:
Kaysea Cook
Phone:
(530) 748-7608
Email:
flowersatthesea@gmail.com
Website:
https://www.instagram.com/flowersatthesea/
About:

Flowers at the Sea is a sustainable cut flower farm cultivating mindful farming practices in Monterey Bay. Owner Kaysea Cook and her team strive to share their passion of farming with the community and encourage others to remain knowledgeable about where their products and food come from. It is hard to understand the origins of Flowers at the Sea without first knowing Bill the Bulb Baron's farm.

Bill the Bulb Baron, a Santa Cruz County local gem for over 50 years, was the world's leading hybridizer and authority on tazetta narcissus and amaryllis belladonna bulbs. Bill originally began growing narcissus and daffodil flowers when he was 16 years old in 1958 and continued on until he was 61 in 2019. He was the gold medal holder in the Daffodil Society for the cultivation and preservation of daffodils and had one of the most diverse collections in the world. Not only this, but as a hybridizer he held variations of daffodils and amaryllis that still only exist on this farm.

One of Kaysea's first jobs at age 18 was with Bill as both a mentor and friend. At this farm she found her passion for farming and cut flowers. He encouraged Kaysea to pursue an education in Biology and Environmental Studies with an emphasis in Plant Science at the University of California Santa Cruz. She worked with Bill for over 10 years on the farm until he passed in December of 2019. After Bill's passing Kaysea decided to lease the farm and transition the name to Flowers at the Sea. The farm is located on the coast of Moss Landing, overlooking the sea. She now continues his legacy and has added many crops for year-round cut flower production.

Flowers at the Sea now grows a wide diversity of year-round cut flowers including Bill's world renowned hybridized narcissus, daffodils and amaryllis for farmers' markets across Monterey Bay. They have added many more cut flowers to their spring, summer and fall seasons in order to produce throughout the summer and into the fall/winter season when the Narcissus and Daffodils bloom.

Pest Management:

Flowers at the Sea grows a variety of companion plants that attract beneficial insects and predators. Throughout the farm there is a significant amount of native plants such as pseudognaphalium, native grasses, and a variety of native sedges that coexist and are kept from the weeding process. Many of their crops are interplanted to reduce pests and aid with management. They have also constructed a sweet pea and jasmine fence that attracts many bird species that love to come help with pest management. If they have further issues with pests they primarily remove them by hand, but in times of heavy pest issues they use OMRI approved baiting.

Soil:

There are three different soil types on the farm; clay, sand and sandy loam. Flowers at the Sea primarily grow their more particular varieties in sandy loam, whereas their hardy bulbs can tolerate anything from clay to sand.

Water Use:

Flowers at the Sea cultivates a diversity of different crops throughout the seasons, which are predominantly drought tolerant. Their main crops are perennials that are dormant throughout the dry seasons and/or do not need water at all throughout the dry season. When water is needed, the farm pulls from a well for targeted drip irrigation. In order to preserve the water and soil, they use effective living ground cover and mulch to maintain saturation of the top soil and replenishment of the groundwater.

Weed Control:

The weed management methods at Flowers at the Sea are fairly simple. They primarily hand pull weeds throughout the farm and use effective living ground cover and mulch. Their annual crops are tilled in after the bloom season, but are regularly managed for weeds during the growing process. This leaves very few weeds to till under with rotating crops.