Casalegno Family Farm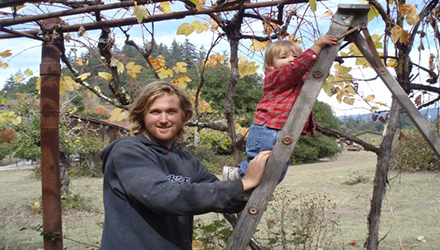 Type:
Farmer
Phone:
831-476-8032
Contact:
170 Laurel Glen Road
Soquel, CA  95073
Website:
http://casalegnofarm.blogspot.com/
Facebook:
http://www.facebook.com/pages/Casalegno-Family-Farm/113051722066519
People:

Matt and Marissa Casalegno have been running the show since 2005, planting young trees for the first time in decades, expanding row crops and bolstering production of a 75 year old garlic variety brought from the homeland. Matt, the oldest of six grandchildren, was pulled into farm work as a child. At harvest the entire extended family would spend weekends at the farm to sort and ready fruit for sale. In the late 1990s, Marissa spent a summer at farmers' markets with Matt's grandmother who was still working hard to maintain the farm. Inspired, she approached Matt about taking over the farm to keep it alive. And so Casalegno persists. While working day jobs and raising two kids, Marissa and Matt spend evenings and weekends working the farm. Find them at the Downtown, Scotts Valley and Felton Markets each summer and fall selling their famous Santa Rosa plums, persimmons, pears, garlic, apples and other organic produce.

Bio:

Five generations of the Casalegno Family have lived on this beautiful site in the hills of Soquel, and the farm has been family owned and in operation since 1916.

History:

Santa Cruz County residents are fortunate to have agricultural spaces butted right up against our neighborhoods. One of our oldest and most beloved growers is Casalegno Farm off Old San Jose road; founded in 1916 when Mr. Casalegno moved to Soquel from Italy with seed in his pocket. Focusing on fruit trees, the farm hit its hay day in 1948 producing 40,000 lbs of plums that year. Today 140 acres of the original land are largely undeveloped, covered in a quilt of orchards, a farm stand, general store, row crops, forest and the homes of four generations of the family.