Blue Heron Farms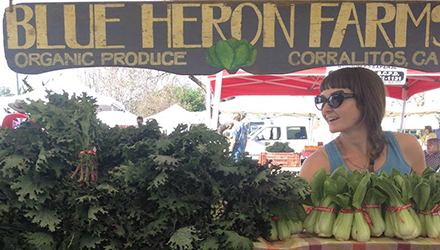 Type:
Farmer
Owner:
Dennis Tamura and Lori Perry
Phone:
831-722-8635
Email:
kelly@blueheron.farm, lmperry@baymoon.com
People:

This is a family farm with a wonderful crew of marketers and top-notch field workers.

Bio:

Dennis Tamura got his start in agriculture while studying gardening with Alan Chadwick during the 1970s. He subsequently helped run the U.C. Santa Cruz Farm & Garden Apprenticeship Program for several years before founding Blue Heron Farms in 1985.

Blue Heron Farms is located in a sheltered valley in Correlitos, blessed with a cool climate and soil that is sandy, soft and easy to work with. The 18 acres they grow on include large swaths of farmland surrounded by live oaks and habitat that is home to deer, bobcats, and coyotes. A deep well provides Blue Heron with water, they irrigate their crops with a combination of overhead sprinklers and drip tape. The farm keeps weeds at bay by torching some crops, hoeing, hand weeding, weed cloth application and cultivating with a tractor.

Both Dennis and his long time partner Lori agree that their greatest asset is the people who they work with - a wonderful group of men from Jalisco and Michoacan, Mexico, and a dedicated farmers' market staff and flower crew. Currently they have three generations of the same family working for the business - a grandfather, three sons and four grandchildren.

Lori and Denis are well known for the quality of their product, in particular for special variety lettuces and flowers along with greens, root veggies and leeks. Their produce seems to jump off the table, so full of vigor, and it's not rare that they sell out.

As Lori says, "Although the hard work never seems to stop, there's not a day that goes by that we don't feel lucky to be farming here on the Central Coast, where people really care about organics and we are able to sell directly to farmers' market customers!"

Blue Heron has been selling at the Downtown Santa Cruz Farmers' Market since the 1990s and values this relationship immensely. Communication with the market management (that's us) allows them to shift up what they bring based on market needs and they lean heavily into direct sales to sustain their business.

*Note: parts of this interview were based on a write up from the Ecology Center in Berkely.

History:

Blue Heron is what once used to be an old Corralitos ranch where apricots and field crops were grown. Dennis started Blue Heron in Santa Cruz in 1984.

Pest Management:

Blue Heron employs organic methods for pest management.

Soil:

Sandy Soil

Water Use:

Drip irrigation and overhead sprinklers.

Weed Control:

Hoes and hand weeding.