Recipes
Winter White Sangria
Ingredients:
1 bottle organic California Sauvignon Blanc
½ liter Cabana Cachaca
1 lime
1 lemon
½ grapefruit
1 blood orange
1 apple
1 pear
¼ cup superfine sugar
2 cups soda water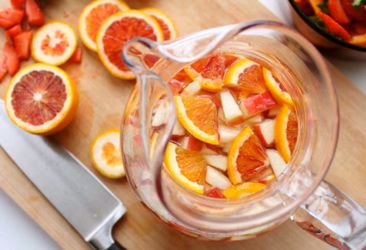 Contributed by: Sierra Zimmei, Seasons Bar at Four Seasons San Francisco
Source: http://www.cuesa.org
Seres 2-4
Preparation
In a pitcher, combine cut fruit and liquids.
Gently stir in sugar. Add a cup of ice and let sit for at least 3 hours (overnight is best). Add more ice before serving and stir. Pour sangria into glasses, fruit and all.
Related Recipes