Recipes
Winter Fruit Salad
Ingredients:
2-3 persimmons, peeled, cut into chunks
2 large pears, cut into chunks
1/2 pound of grapes, halved
1 cup celeriac (celery root), shredded
2/3 cup walnuts or pecans, chopped
1 lemon, juiced
2 tsp lemon zest
2 Tbsp honey
1 Tbsp red wine vinegar or champagne vinegar
Salt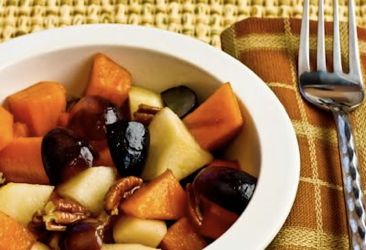 I love fall and winter fruit. Zipper-skinned Satsuma mandarins, Bosc pears, apples, pomegranates, persimmons, all of them are not nearly as sweet as summer fruits and make for great fruit salads. I like to throw in some grapes and celery root or jicama for the earthy flavor.
You can easily add just about anything you'd like to this recipe, fruit wise. Just make sure to sprinkle everything with lemon juice to help keep it fresh and add a mix of vinegar and honey for that sweet but tangy sauce.
Pomegranate seeds add a nice crunch and can be easily prepared in a bowl of water, this will keep the seeds from shooting everywhere, the juice from staining everything, plus the white pulp floats and the seeds sink. Voila, no muss pile of pomegranate seeds!
Contributed by: Gabriel Avila-Mooney
Source: www.fullcircle.com
Serves 4-6
Preparation
In a large bowl combine lemon juice, lemon zest, honey, a pinch of salt and vinegar.
Add persimmons and pears and toss until coated.
Add grapes and celeriac.
Add more honey or more vinegar to taste.
Cover and refrigerate for one hour.
Remove and stir in walnuts, spoon over a bed of arugula or serve alone.
Related Recipes