Recipes
White Bean and Wilted Greens
Ingredients:
1 1/2 Cups dried cannellini or Great Northern beans
2 medium tomatoes
1 medium yellow onion
1 small carrot
3 cloves garlic
2 bay leaves
olive oil
1 small piece prosciutto with rind or smoked bacon
6 cups chicken stock
3tsp salt
1 bunch (about 1 lb) spicy greens (arugula, mustard greens or turnip greens)
Garnish
12 sage leaves

Parmesan cheese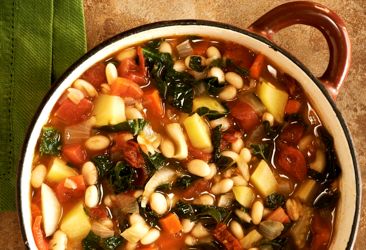 Contributed by: author, Alice Waters
Source: From the book Chez Panisse Vegetables
Serves 6
Preparation
Soak the beans overnight.
Peel, seed, and chop the tomatoes. Set aside.
Peel and cut the onion and carrot into small dice; peel and chop the garlic very fine. Place the onion, carrot, and garlic in a nonreactive soup pot with some olive oil and a splash of water; cook until translucent. Add the bay leaves, drained beans, and prosciutto or bacon, and cook for a few minutes more. Add the tomatoes to the beans and stew for another minute or so.
Pour in the stock and bring the soup to a boil. Lower the heat to a simmer and cook for about 1¼ hours, stirring occasionally. Add the salt after about an hour. The beans should be fully cooked, soft but not falling apart.
Add the greens, washed and cut into 1-inch strips, and simmer, uncovered, for another 20 minutes, stirring occasionally.
Meanwhile, heat some olive oil in a small frying pan. Fry the sage leaves in the oil for a few seconds, a few at a time (more than a few seconds and they'll turn black). Drain on a paper towel or absorbent cloth.
When the soup is done, ladle it into soup bowls and serve, garnished with a few shavings of Parmesan and the fried sage leaves.
Related Recipes