Recipes
Watermelon, Cherry and Arugula Salad
Ingredients:
4 cups seedless watermelon, peeled and cubed
3 cups seasonal cherries, pitted and halved
3 Tbsp red wine vinegar or champagne vinegar
2 Tbsp fresh mint, chopped
2 Tbsp fresh basil, chopped
Baby arugula or salad mix
Salt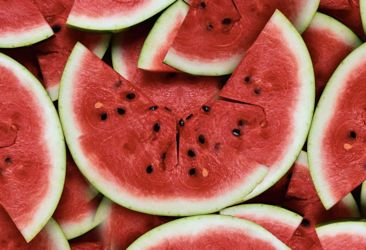 With cherries still going strong and watermelon coming in off the fields this salad is perfect for a late summer picnic. Adjust the vinegar and sugar to find the balance between sweet and tart.
Contributed by: Gabriel Avila-Mooney
Source: http://www.fullcircle.com/
Serves 4-6
Preparation
Mix watermelon, cherries, sugar and vinegar in a large bowl, tossing lightly to coat, but avoid bruising the watermelon.
Taste and adjust between sweetness of sugar and tartness of vinegar.
Depending on the sugars of the fruit you may need to add more sugar.
Lightly toss in herbs and mix in arugula or salad mix.
Serve immediately.
Related Recipes