Recipes
Uber Veggie Chili
Ingredients:
1 or 2 jars of Dirty Girl tomatoes

Lonely Mountain heirloom beans (your choice)
Dirty Girl cannellini beans
Chard
Carrots
Celery
Garlic
Onion
Shallots
Fresh jalapenos or Serrano peppers
Spices; cumin, sea salt, cayenne.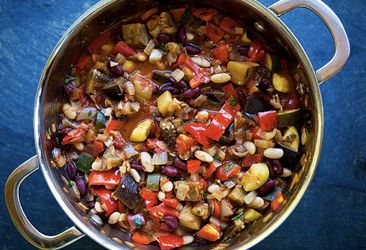 Versatile, soul warming dish that can be made vegan or loaded with ground meat of your choice. Lean ground turkey is a healthy option.
Contributed by: Catherine Wenzler of Teresa's Salsa
Source:
Serves 4-6
Preparation
Place all beans in a large stovetop pot, cover with at least four inches of water.
Add spices to your liking.
Bring to a boil and reduce to simmer for 45 minutes or until beans are nearly tender.
Add all veggies and additional spices to taste.
Cook until veggies are to your liking.
May be topped with sour cream, fresh cilantro, or avocado.
Related Recipes