Recipes
Super Smoothie
Ingredients:
3 packed cups kale leaves
1" piece of fresh ginger, peel on
2 organic celery stalks
1 organic green apple, cored
2 cups fresh alfalfa sprouts
½ c. fresh parsley
2 tsps. Hemp, chia or flax seeds
1 cup coconut water
1 cup water
Sweetner to taste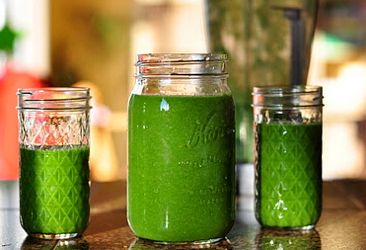 A smoothie for breakfast makes sense for many reasons: fiber, enzymes, protein and antioxidants will keep you going all morning, no caffeine required!  Ingredient choices are flexible here, but be sure to keep it fresh, raw and mostly green to avoid sugar overload.
Contributed by: Elizabeth Borelli
Source: http://elizabethborelli.com/
Serves 2-4
Preparation
Rinse ingredients and toss them in a blender, blend until smooth.
Related Recipes