Recipes
Sunny Mint Iced Tea
Ingredients:
10 stalks of wild mint
4 tea bags (orange pekoe is best)
1 quart of water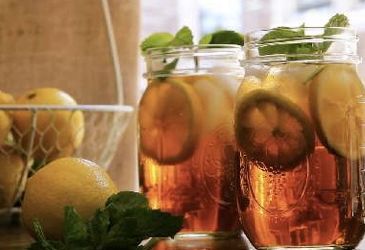 Instead of the standard boiling water, this iced tea recipe uses fresh cold water and the sun to make tea. It doesn't go cloudy when refrigerated, like boiled water tends to do, and the taste is fresh and clean.
Contributed by: Ronna Mogelon
Source: 'Wild in the Kitchen: Recipes for wild fruits, weeds and seeds.'
Serves 4-6
Preparation
Fill a quart jar with all of the ingredients.

Put the jar in a sunny location in the morning and let the tea steep in the bright sunshine for 4-6 hour. It will become a lovely, rich color. Remove the tea bags and the mint and put the jar in the refrigerator.
Once chilled, serve over ice, garnished with wild mint leaves and a slice of lemon.
Related Recipes