Recipes
Spring Greens Salad with Black Beans and Apricots
Ingredients:
4 Fresh apricots
3 to 4 ounces Baby arugula, spinach, tatsoi, or mizuna [or, preferably, a combination]
1 15- to 16-ounce can black beans, drained and rinsed
A good handful of sprouts [pea shoots, broccoli sprouts]
3 to 4 radishes, thinly sliced
Handful of radish greens, chopped
Juice of 1/2 lemon
1/4 cup raspberry vinaigrette
Salt and freshly ground pepper to taste

2 to 3 tablespoons toasted pumpkin or sunflower seeds for topping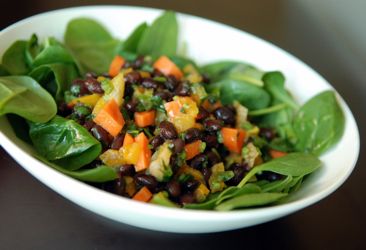 Contributed by: Nova Atlas
Source: From the book, Wild About Greens
Serves 4-6
Preparation
1. Cut the apricots in half lengthwise and remove the pits. Cut each half into quarters lengthwise.
2. Combine the apricots with all the remaining ingredients except the seeds in a serving bowl and toss together. Sprinkle the seeds over the top and serve.
Related Recipes