Recipes
SPRING FLOWERS SALAD: Broccoli and Cauliflower, Sultanas and Peanuts
Ingredients:
1 small head broccoli
1 small head cauliflower, violet
1 small head cauliflower, cheddar
1 small head cauliflower, green
1/4 cup sultana raisins
1/4  cup white wine
1/4  cup roasted peanuts
1/4  cup creme fraiche
1 each egg yolk
2 oz sherry vinegar
1/3 cup olive oil
1 clove garlic, minced
Celery salt and sugar to taste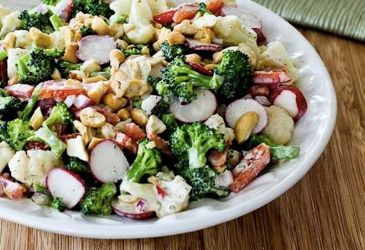 Contributed by: Ryan Shelton of Le Cigare Volant
Source: http://www.santacruzsentinel.com/ci_20790887/art-salad-area-chefs-break-down-salad-plate
Serves 8
Preparation
1. Trim the broccoli and cauliflower into individual florets.
The florets should be roughly the size of a quarter and about 16 each color.
2. Take remaining broccoli and cauliflower and shave off just the teeny-tiny outer colorful sprinkles. Mix to create vegetable nonpareils!
3. Blanch all of the florets until tender and shock in ice water.
4. Meanwhile, mix the sherry vinegar, yolk and garlic.
5. Slowly drizzle in the olive oil to create a thick emulsion.
6. Fold in the creme fraiche.
7. Separately, heat the raisins in the wine until swollen and soft.
8. Drain the wine, add the raisins to the dressing, along with the florets.
9. Season to taste with celery salt and sugar.
10. To serve, sprinkle peanuts over the top and completely coat in 'nonpareils.'
Related Recipes