Recipes
Soy-Braised Short Ribs With Shiitakes
Ingredients:
3 tbsp. vegetable oil or Bacon grease, divided
4 lb. cross-cut beef short ribs (flanked style) about 1 ½" thick, cut into 2-bone pieces
Salt and freshly ground pepper
¾ lb. shiitake mushrooms, stemmed
1 bunch scallions, whites chopped, greens thinly sliced, divided
1 1" piece peeled ginger, thinly sliced
2 cups (or more) beef, chicken or pork stock
½ cup soy sauce
1/3 cup dry sake
¼ cup (packed) brown sugar
3 whole star anise
1 cinnamon stick
8 oz. wide ride noodles, cooked according to a package directions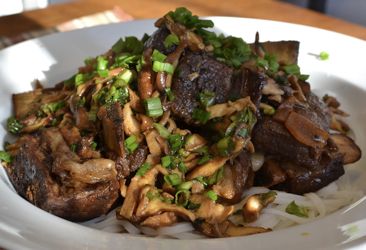 Contributed by: Chris LaVeque of El Sachichero
Source: Adapted from Bon Appetit January 2012
Serves 6
Preparation
Place a rack in lower third of oven; preheat to 325 degrees.
Heat 1-2 tbsp. oil in a large heavy pot over medium-high heat. Season short ribs lightly with salt and pepper.
Working in batches, cook short ribs, reducing heat as needed to avoid overbrowning, until brown on all sides, 10-12 minutes per batch.
Transfer short ribs to a plate; drain all but 1 tbsp. dripping from pot.
Related Recipes