Recipes
Red Lentil and Spinach Soup
Ingredients:
2 tablespoons olive oil
1 small yellow onion, minced
2 tablespoons minced fresh ginger
1 tablespoon ground coriander
1 tablespoon brown mustard seeds
1 teaspoon ground cumin
½ teaspoon ground turmeric
¼ teaspoon cayenne pepper
1 cup red lentils
2 cloves garlic, minced
1 teaspoon salt
2 cups firmly packed spinach leaves, coarsely chopped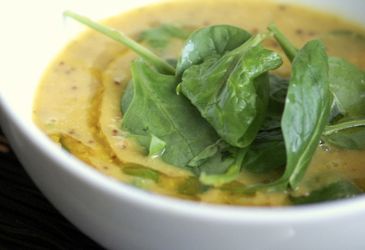 This soup is filling, but light in texture. It can warm the bones on a chilly day or evening, and the fresh ingredients make this a healthy meal. Also, red lentils have a short cooking time, which makes this soup perfect for last minute preparation. Serve it up and impress your friends, restaurant style.
Contributed by: Jane
Source: http://www.janespice.com/
Serves 4
Preparation
In a soup pot, heat the olive oil on medium heat and add the onion. Cook, stirring occasionally, until the onion is translucent, about 5 minutes. Stir in the ginger, coriander, mustard seeds, cumin, turmeric, cayenne, lentils, garlic and salt, and cook for one minute more.
Add 5 cups water and bring to the boil. Decrease the heat and simmer, stirring occasionally, until the lentils have cooked into the puree, about 20 minutes. Use an immersion blender or food processor to puree further, if you prefer. Taste and add more salt if needed.
Just before serving, stir in the spinach and cook for 1 minute to wilt.
Related Recipes