Recipes
Raspberry Evening Spritzer
Ingredients:
1 cup purified water

6 oz raspberries
1 tsp herbal or black tea leaves
1 cup honey
1 small orange, washed and thinly sliced
8 cups chilled seltzer water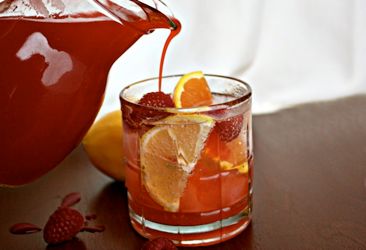 This simple blend of fruit, natural sweeteners, tea, and seltzer water is an ideal afternoon or evening drink for a casual gathering with friends or an afternoon surprise during the workweek.
Contributed by: Rosie Daley
Source: 'The Healthy Kitchen'
Makes 8 spritzers
Preparation
Bring the water to a boil in a saucepan and drop in the raspberries. Lower heat and simmer for 3 minutes.
Remove from heat and sprinkle the tea into the pan. Cover and let steep for 2 minutes.
Strain the warm liquid through a fine mesh strainer into a small saucepan using the back of a large spoon to break up the pulp of the berries and push the liquid through.
Add the honey, stir for about 2 minutes, then chill in the refrigerator.
Place 1 orange slice at the bottom of 8 tall glasses,
Pour 1 tablespoon of the chilled raspberry syrup and 1 cup of cold seltzer water into each glass.
Stir, add ice and serve immediately.
Related Recipes