Recipes
Quinoa Tabouli
Ingredients:
2 cups cooked quinoa

1 cucumber, diced
handful of cherry tomatoes, chopped
Dressing:
1/2 cup olive oil

juice of 2 lemons
fine chopped Dirty Girl italian parsley
1/4 cup chopped mint
sea salt and pepper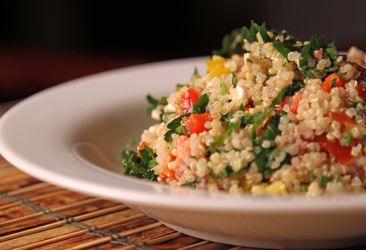 A family fave! Fresh herbs and bright flavors are great for a side dish or potluck addition. Everyone in my family makes this dish with a different spin on it. Get creative!
Contributed by: Eve Krammer of Dirty Girl Produce
Source:
Serves 6-8 as a side dish
Preparation
Combine all ingredients for dressing and whisk in a bowl.

Mix all prepared veggies to the cooked and cooled quinoa.
Add dressing to quinoa, add more sea salt and lemon juice to taste.
Chill for 20 minutes or eat at room temp.
Enjoy!
Love, Eve
Related Recipes