Recipes
Pickled Lemon-Chile Artichokes
Ingredients:
1 pound baby artichokes, cleaned and braised
4 lemons
Salt to taste
1 cup white vinegar
¼ cup agave syrup
1 tablespoon chile powder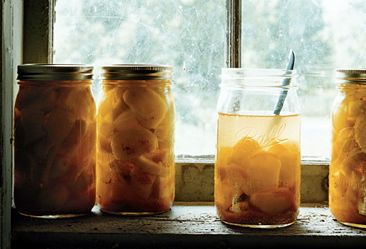 Contributed by: Michael Siegel, Shorty Goldstein's
Source: www.cuesa.org
Serves 4 to 6
Preparation
Cut one lemon in half and squeeze the juice into enough water to cover the artichokes. Place the lemon halves in the water as well. Remove the outer, tough, leaves of the artichokes. Trim off the tops of the remaining leaves and discard. Trim the base of the stem, as it can become tough. Using a peeler, peel the stems of the artichokes. Cut the artichokes in quarters and place them in the lemon water.
Season the lemon water with salt to taste. Place the artichokes and liquid in an oven-safe casserole pan and cover with aluminum foil. Cook at 350˚F for approximately 25 to 30 minutes or until tender. Place the artichokes in the liquid into the refrigerator. Cooling them in the liquid will prevent them from drying out.
In a sauce pot, combine the zest and juice of 3 lemons, white vinegar, agave syrup, a cup of water, and chile powder. Bring to a boil.
Remove the artichokes from the braising water and place them in a heat-resistant container. Pour the boiling pickling liquid over them. Let them cool at room temperature and then refrigerate before serving.
Related Recipes