Recipes
Pasta Salad with Smoked Chicken
Ingredients:
8 ounces pasta (fussily or shells)
3 cups el Salchichero smoked chicken, diced or shredded
1/2 cup sliced green or red onion
1 large red pepper
1/2 cup chopped fresh parsley
1 cup sliced celery
1 cup frozen peas
1 cup diced fresh tomato
1 cup sliced ripe olives
1/2 cup mayonnaise
2 tablespoons soy sauce
2 tablespoons lemon juice
2 tablespoons red wine vinegar
1 teaspoon Dijon mustard
1 teaspoon sugar
1/2 teaspoon garlic powder
1/2 teaspoon paprika
1/2 teaspoon ground ginger
1/8 teaspoon red hot pepper sauce
1/8 teaspoon freshly ground black pepper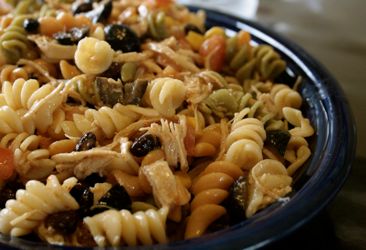 This recipe is from a PG&E newsletter we received in 1985. It has always been a family favorite! We like to serve this when its hot outside and we don't feel like heating up the kitchen or want something cool and refreshing. Our el Salchichero smoked chicken is perfect for this recipe.
Contributed by: Chris La Veque of El Sachichero
Source: http://www.elsalchichero.com/
Serves 6
Preparation
Cook pasta according to directions on package until just tender. (Don't overcook.) Rinse with cold water; drain. Place in large bowl; add onions, parsley, celery, peas, tomato and olives.
Combine mayonnaise with soy sauce, lemon juice, vinegar, mustard, sugar, garlic powder, paprika, ginger, pepper sauce and black pepper. Add to pasta mixture along with the chicken. Mix well. Adjust seasonings.
Chill overnight. To serve, pile into serving bowl or onto platter and garnish with tomato wedges. (NOTE: good served with deviled eggs.)
Related Recipes