Recipes
Mushroom Toast Appetizer
Ingredients:
12 slices baguette, cut on bias in 1/2-inch thick pieces, toasted
1 Tbs butter
1 Tbs olive oil
2 medium shallots, minced
1/2 onion, minced
1/2 lb (s) Royal Trumpet mushrooms, brushed clean and thinly chopped
salt and pepper to taste
3 Tbs sour cream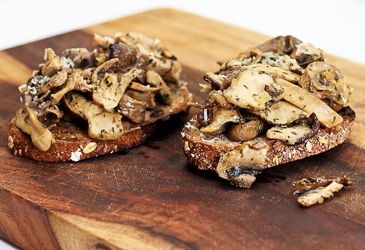 Preparation
Heat a skillet over medium heat. Add butter and olive oil.
When hot, add shallots and onion. When translucent and beginning to brown, add mushrooms.
Once the mushrooms have wilted, about 3-4 minutes, add the salt and pepper to taste. Add the sour cream and stir to combine.
Take off the heat and put a generous spread on each toast. Serve immediately. Serves 4.
Related Recipes