Recipes
Maria Fresca
Ingredients:
2 sprigs cilantro, long stems removed
Ice
4 oz Spicy Tomato Water, recipe follows
2 oz tequila
Spicy Tomato Water
1 ½ cup very ripe cherry tomatoes, halved
2 slices fresh jalapeno, ¼-inch thick, from a small pepper (about ¾-1 inch in diameter)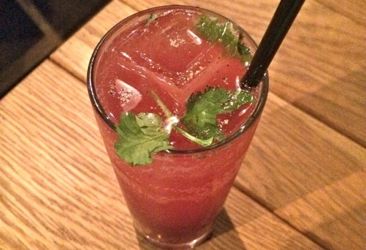 Lighten up a Bloody Maria by substituting the heavy tomato puree with fresh tomato water and an herbal snap from cilantro. Don't be fooled, this little number still offers plenty of kick from cold infusing the tomato water with fresh jalapeno. Plus, tequila!
Contributed by: Market Street Vegan
Source: http://knoxzine.com/
Serves 2
Preparation
Spicy Tomato Water:
Using a food processor or immersion blender, pulse the halved tomatoes until very loose but chunky, stopping short of pureed. Place the jalapeno slices in a bowl.
Line a mesh sieve with two layers of cheesecloth and place over the bowl. Pour the broken tomatoes into the lined sieve, transfer to the fridge, and let sit 8 hours.
Remove the jalapeno slices from the tomato water before use.
Maria Fresca:
Muddle the cilantro leaves in a glass and add ice. Add the tomato water and tequila. Garnish with a lime wedge.
Related Recipes