Recipes
Maple Butternut Bake
Ingredients:
1 2-3 lb. butternut squash, peeled, seeds removed and chopped into ½ – 1" cubes
1 red onion, peeled and chopped (size is up to you)
1 parsnip, peeled and chopped
1 small or ½ large fennel bulb, chopped
6-8 cloves garlic, peeled and quartered
¼ cup dried currants or finely chopped pitted dates
1 tablespoon olive oil
1 tablespoon lemon juice
1 teaspoon salt
½ teaspoon maple syrup
1 teaspoon Italian seasoning (optional)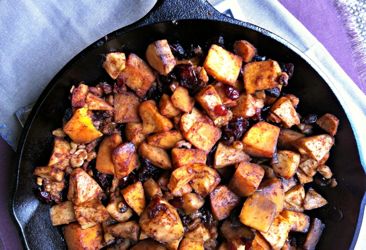 This dish is so scrumptious and satisfying you'd swear it was loaded with everything you try not to eat.  Yet this festive dish is both simple to prepare and terrifically nutritious.  Butternut squash is good source of fiber and nutrients, including  vitamin C, manganese, magnesium, and potassium. It is also an excellent source of vitamins A and E. Combine it with your favorite winter veggies, add a touch of sweet and bake until it almost melts in your mouth for a holiday dish you'll savor any day.
There is some chopping involved in this recipe, but don't worry about getting everything sized right – it will come together beautifully regardless.  And if you haven't cubed butternut before, with a sharp knife and potato peeler, it's easier than it sounds (at least the second time)!
Contributed by: Elizabeth Borelli
Source: http://sustainablesantacruz.org
Serves 2 or 3
Preparation
Preheat your oven to 375 degrees.  Toss all ingredients together in a bowl and pour into 2 glass pie plates (recommended because they're easy to clean)!   You can use a shallow baking dish here as well.
Bake for 45 minutes.
Remove from the oven and stir to loosen anything stuck to the bottom of the baking plates or dish and ensure everything cooks evenly, then turn the heat up to 450 degrees.  Put the dishes back into the over for 5-10 more minutes, until browned at the top and ready to serve.
Enjoy!
Related Recipes