Recipes
Late Summer Corn and Poblano Salsa
Ingredients:
6-8 poblano chiles
1.5 c. fresh corn, cut from the cob
1 cup cherry tomatoes
1/2 tsp salt
1/4 tsp sugar
2 Tbsp finely sliced basil
3 Tbsp olive oil
1 Tbsp lime juice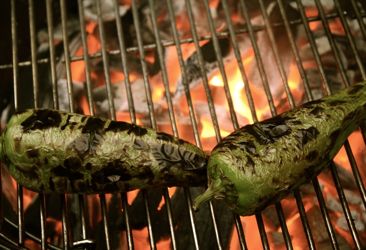 Contributed by: Fran Grayson of The Truck Stop
Source:
Serves 2-4
Preparation
Roast the chiles over an open flame on the stove or a grill. Turn frequently to blister skin on all sides and place in a bowl. Cover the bowl with  a plate and let cool. This will make peeling easier.
When cool enough to handle, remove skin, seeds and stem, this is very easy with poblanos. Don't worry about getting every last bit of skin and seeds. Chop into 3/8 inch pieces.
Heat a cast iron pan and, once hot, spread the corn in it. Don't stir, wait until you hear it popping, about 2 minutes, remove.
Slice the cherry tomatoes and place in a medium size mixing bowl. Toss with salt and sugar.
Add the rest of the ingredients in the mixing bowl and stir to combine. Eat on grilled steak or chicken tacos and top with queso fresco or sour cream (optional). Enjoy!
Related Recipes