Recipes
Kohlrabi with Cream
Ingredients:
2 1/4 lb kohlrabi

1 cup double cream
2 tbsp chopped flat-leaf italian parsley
salt and pepper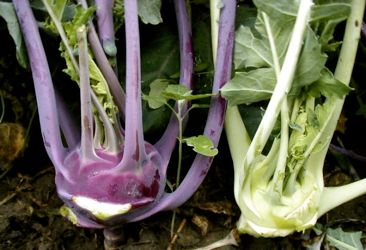 Contributed by: Lorenza De'Medici
Source: 'A Passion for Vegetables'
Serves 6
Preparation
Bring a large saucepan of salted water to a boil

Peel the kohlrabi and cute them into julienne strips.
Cook in the water for about 5 minutes, then drain and replace in the saucepan.
Add the cream and pepper to taste and cover.
Cook over a low heat for 5 minutes more, uncover and continue cooking until most of the cream has evaporated.
Add the parsley, mix well, arrange on a platter and serve immediately.
Related Recipes