Recipes
Kale and Red Quinoa Salad
Ingredients:
1 cup red quinoa, rinsed in a fine sieve
8 to 10 ounces of kale, preferably curly green
2 tablespoons extra-virgin olive oil
2 cups cooked fresh or thawed frozen corn kernels
1 15- to 16-ounce can black beans, drained and rinsed
1 cup halved grape or cherry tomatoes
2 tablespoons lemon juice, or more, to taste
1 teaspoon ground cumin
1/4 cup minced fresh parsley, or more, to taste
Salt and freshly ground pepper to taste
1/4 cup toasted pumpkin seeds for garnish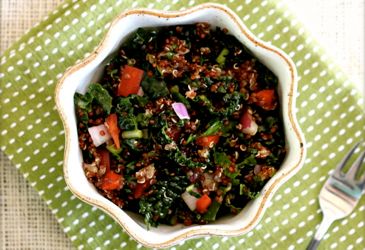 Contributed by: Nava Atlas
Source: From the book, Wild About Greens
Serves 6
Preparation
1. Combine the quinoa with 2 cups water in a medium saucepan.
2. Bring to a rapid simmer, then lower the heat, cover, and simmer gently for about 15 minutes until the stock is absorbed.
3. Allow the cooked quinoa to cool to room temperature.
4. In a large serving bowl, massage kale by rubbing a small amount of olive oil onto your palms and massing the kale leaves for 30 to 60 seconds, until they turn bright green an soften.
5. Add cooked quinoa to the serving bowl along with the remaining ingredients.
6. Stir well, sprinkle with pumpkin seeds, and serve.
Related Recipes