Recipes
Jalapeño-Lime Kale Slaw
Ingredients:
Salad:
5 to 6 cups thinly sliced lacinato kale
1/2 cup (or more) diced red bell pepper
Dressing:
1/4 cup packed cilantro
1 jalapeño pepper, seeded
1 clove garlic
4 tablespoons extra virgin olive oil
3 tablespoons fresh squeezed lime juice
1/4 teaspoon sea salt or Herbamare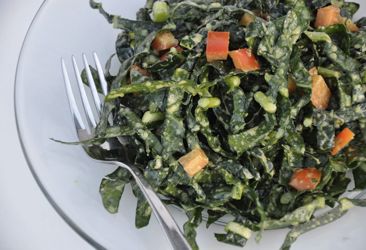 Here is a simple recipe for a raw kale slaw. It is very quick to prepare but actually tastes best about 12 to 24 hours after preparing. The dressing is spicy, not the burn-your-mouth type of spiciness, but hot.
Disclaimer: my kids won't eat this!
I, however, love it. The spiciness feels just right to warm your belly on a cool fall evening. Last night we served it with warmed black beans and sticky brown rice, diced avocados, and baked delicata squash. I think it would be great with toasted pumpkin seeds sprinkled on top just before serving. The other week we served it atop a curried lentil and yam stew and the flavor combinations were fantastic!
Contributed by: Alyssa Segersten
Source: www.nourishingmeals.com
Serves 2-4
Preparation
Place kale and diced red pepper in a large bowl, set aside.
Place all ingredients for dressing into a blender and blend on medium until combined. I actually place all ingredients into a wide mouth jar and use my immersion blender. This way I don't dirty the whole blender!
Pour dressing over salad and toss together. Taste and add more salt if needed. Let dressing mingle with the kale for 2 to 24 hours. The kale with tenderize and become softer the longer it sits. Enjoy!
Related Recipes