Recipes
Ground Yourself- Soup
Ingredients:
4-6 cups filtered water ( or bone broth for additional minerals) 

1 large yellow onion
1 large red onion
5 cloves of garlic
5 carrots, diced
3 potatoes, russet, sweet, japanese- any kind you like
1 or 2 parsnips
1 turnip
Braggs Apple Cider Vinegar
Sea Salt, pepper and herbs of your choice ( I especially like rosemary and thyme)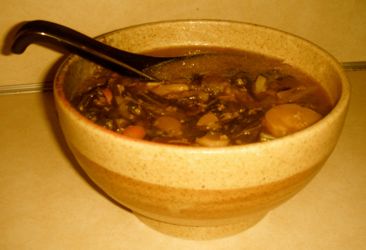 I make this soup whenever things in life get wild and crazy, when I feel like my head is off in the clouds and my feet haven't touched the ground in days. Choose any downward-growing vegetables, pair with a whole grain bread and eat slowly. Preferably while sitting on the earth.
Contributed by: Santa Cruz community member, Tori Dillon
Source:
Serves 6-8
Preparation
Boil water (or broth) gently in a large stove top pot with lid.
Add onions, garlic, sea salt and half of the herbs.
Chop all other vegetables to bite size and add to pot.
Add the rest of the herbs, and a splash or two of apple cider vinegar.
Cover and simmer 15-25 minutes, until vegetables are soft and to your liking.
Enjoy slowly, chew well... and ground yourself!
Related Recipes