Recipes
Green Garlic Toast
Ingredients:
1 pound butter (at room temperature), divided in half
Salt
Pinch of chile flakes
1 cup sliced green garlic
½ cup grated Parmesan or Grana Padano, plus extra for sprinkling; reserve the rind if available
1 loaf long Italian baguette, sliced
1 tablespoon chopped parsley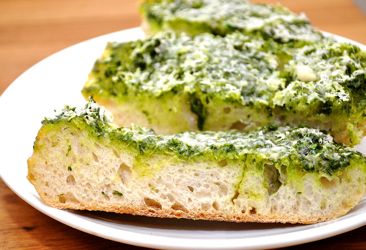 Contributed by: Carlo Espinas, Comstock Saloon
Source: www.cuesa.org
Serves 6 to 8
Preparation
At medium-low heat, melt half of the butter in a small sauce pot. Add a pinch of salt, the chile flakes, and the cheese rind. When the butter is mostly melted, add the green garlic. Simmer the garlic for about 10 to 15 minutes. While it's cooking, mash the remaining half of the butter in a bowl with the grated Parmesan.
When the garlic is cooked through, remove it using a slotted spoon and cool in a separate bowl. (Reserve the melted butter for other purposes, described below.) Discard the rind. When the garlic is cool to the touch, fold it in with the butter and cheese mixture and mix thoroughly.
Preheat oven to 350˚F. Slather the butter on slices of soft baguette, top with a little extra cheese, and bake until toasty and slightly brown, about 10 minutes. Garnish with parsley.
Store the butter for up to a couple weeks in your fridge. Use it for anything and everything: as a base for pasta; sautéing vegetables; as a dip for crab; or to rub on a chicken before roasting it.
Related Recipes