Recipes
Fresh & Zesty Slow Cooked Salsa Chicken
Ingredients:
1 whole Fogline Farm chicken
1 16 oz tub of Teresa's Salsa  (totally fresh!)
Dirty Girl cilantro
Tortillas (Mi Abuelita)
1 cup Massa Organics brown Rice
lime or lemon from Route 1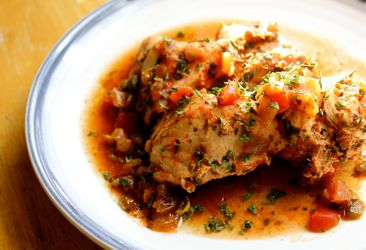 "This dish is a family staple at 'the Lair'. I own a local salsa company,  so this is a quick and easy way to have a delicious hot meal after a long day. Get some totally fresh salsa, set it, and forget it!"
Contributed by: Eve Krammer of Dirty Girl Produce
Source:
Serves 4-8
Preparation
Place chicken in a slow cooker or deep stovetop pot. Dump 16oz of Theresa's Salsa in the cooker, let simmer until tender and juicy.
Serve as you like, I suggest shredding the chicken and using for a taco, burrito or enchilada dinner.
Get creative with your slow cooked salsa chicken and make whatever your family prefers.
Remember to always shop local and use fresh ingredients!
Related Recipes