Recipes
Fresh Pasta with Arugula-Walnut Pesto
Ingredients:
3 handfuls fresh arugula
1 handful chopped walnuts
3/4 cup parmesan cheese, grated
1/3 cup olive oil
4 garlic cloves, minced
1/4 cup light cream, warmed but not scalded (30 seconds in the microwave will do)
1 lb (or less) fresh pasta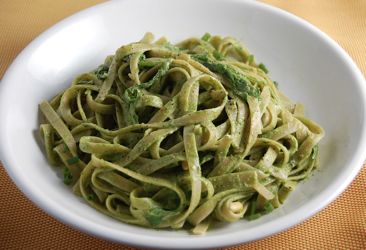 Preparation
Place a large pot of water to boil on high on the stove for the pasta.
While the water boils, start on the pesto. In a food processor, place the arugula, parmesan, garlic and walnuts and pulse until combined. With the processor still running, slowly pour in the olive oil. Then, slowly add the heavy cream until you get a green, creamy emulsion.
Salt the boiling water and add the pasta, cooking for about 2-4 minutes, depending on pasta shape. Drain and transfer to a bowl. Scrape the pesto onto the cooked pasta and toss until evenly coated.
Related Recipes