Recipes
Favorite Gluten-Free Chili Recipe
Ingredients:
1 tablespoon olive oil
4 cloves of garlic, minced
1 medium red or sweet onion, diced
2 jalapeños, seeded, stemmed, diced
1 large yellow bell pepper, seeded, cored, diced
1 medium green or red bell pepper, seeded, cored, diced
2 medium carrots, sliced into coins
2 cups butternut or banana squash, diced
1 medium sweet potato, peeled, diced
2 cups gluten-free broth
1 28-oz.can Muir Glen Fire Roasted Tomatoes
1 15-oz. can pinto, black or white beans, rinsed, drained
1 teaspoon ground cumin, or to taste
1 teaspoon gluten-free curry or chili powder, or to taste
Sea salt and fresh ground black pepper, to taste
Lime juice, to taste
Option:
Hot red pepper flakes, if desired, for more heat
For serving:
Fresh lime wedges to brighten the flavor
Fresh chopped cilantro or parsley
A dab of sour cream or Greek yogurt, if desired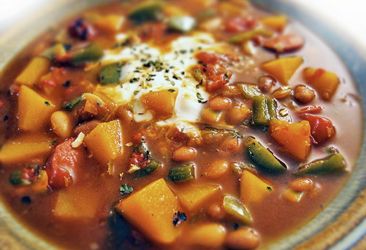 We always improvise our chili and no two recipes are ever the same, but this is an approximation of this week's recipe. (Sometimes I'll add sausage. Pieces of organic free-range chicken or turkey would also work. Vegans- use vegetable broth and garnish with chopped herbs, scallions or crumbled corn chips.)
Contributed by: Karina
Source: http://glutenfreegoddess.blogspot.com
Serve 4
Preparation
Pour the olive oil into a slow cooker or Crock Pot. Add the garlic and onion and stir to coat. Add in the remaining ingredients. Break apart the tomatoes a bit. Cook on low or high according to the manufacturer's instruction for your particular make and model.

Go do something creative. Dance. Read. Draw with crayons.

Before serving, taste for seasoning adjustments- add a bit of raw organic agave nectar to tone down the heat. Add lime juice to brighten the flavors.

Omnivores add your favorite cooked organic sausage, browned grass fed organic ground beef, or cooked free-range organic turkey or chicken pieces, if you like.

Serve with wedges of 

Sweet Potato Cornbread

 or 

New Irish Soda Bread with Millet

.

Kiss your favorite person.
Related Recipes