Recipes
Escarole Salad
Ingredients:
For the Pickled Onions: 
1/2 cup red wine vinegar (I swapped half with regular vinegar; I was being stingy with my fancy red wine stuff)
1/2 cup cold water
2 tablespoons kosher salt
1 tablespoon sugar
2 to 3 really good shots hot sauce (recommended: Tabasco)
1 red onion, sliced into very thin rings
For the Escarole Salad:
1/2 cup grated pecorino romano
1/2 cup toasted hazelnuts
2 tablespoons freshly chopped parsley leaves
1 head escarole, washed, spun dry, cut into bite size pieces
High-quality extra-virgin olive oil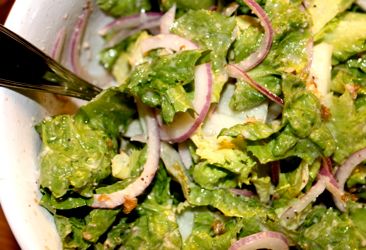 Contributed by: Deb
Source: http://smittenkitchen.com/
Serves 2-4
Preparation
Make the pickled red onions:
In a small bowl, combine red wine vinegar with 1/2 cup of cold tap water. Stir in salt, the sugar and the hot sauce.
Add the sliced onions and let sit for at least one hour. [Do ahead: We made these the night before to save time; they were even better pickled overnight.]
Make the escarole salad:
Combine the romano, hazelnuts and parsley in the food processor and pulse until they are coarsely chopped.
Toss together the escarole, hazelnut mixture and some of the pickled red onions and dress with some of the pickling liquid and olive oil.
Season with salt and pepper.
Related Recipes