Recipes
Enchiladas Verde
Ingredients:
For Enchiladas
1 red onion

3 lbs diced zucchini
5 cups corn, sliced off the cob
1 jalapeno, seeded and diced
1 bunch cilantro
1 cup goat cheese
 1 cup cheddar cheese, shredded
tbs toasted cumin
tbsp coriander
1 cup raisins (soak in hot water 5-10 min)
corn tortillas, flash fried.
green tomatillo salsa verde (recipe below)
For tomatillo salsa verde
1 lb tomatillos

1 whole jalapeno
crème fraîche
half bunch cilantro
salt and peper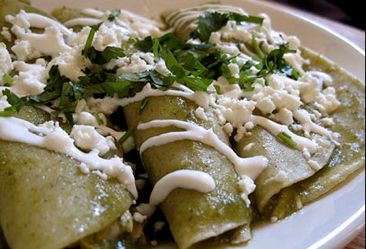 While working for a small, private elementary school Rene developed this recipe for the young vegetarians. It was a hit! The kids loved to eat their veggies when prepared in this way.
Contributed by: Local chef, Rene Martinez
Source:
Makes roughly 20 enchiladas
Preparation
For salsa verde:
Simmer tomatillos and jalapeno in water for 10 minutes. Drain, reserving 25% of the water and place in blender

Add 1 tablespoon crème fraîche, cilantro, salt and pepper.
Blend.
For Enchiladas:
Sauté zucchini, corn and onion until onions are translucent and zucchini is tender. Remove from heat and cool
Add diced jalapeno, cumin, coriander and salt.
Make sure this mixture is completely cool before adding goat cheese and cheddar cheese.
While waiting for the vegetables to cool, fry the corn tortillas in an inch or two of oil. Using tongs, just a few seconds on each side.
Drain raisins and add to vegetable mixture.
Oil a large cookie sheet or glass baking dish. Fill each tortilla with the mixture and gently place, snugly into the dish.
Top the dish of enchiladas with any remaining vegetable mixture and tomatillo salsa.
Bake for 10-15 minutes.
Garnish with cilantro and crumbled crème fraîche.
Serve hot!
Related Recipes