Recipes
Creamy Summer Zucchini Soup
Ingredients:
2 to 3 tablespoons extra virgin olive oil
1 large onion, chopped
2 to 4 cloves garlic, chopped
1 teaspoon ground cumin
8 to 10 cups chopped zucchini (about 5 to 6 medium zukes)
6 tablespoons uncooked white rice
8 cups chicken stock or vegetable stock
1 bunch cilantro, coarsely chopped
2 to 3 tablespoons freshly squeezed lemon juice
sea salt or Herbamare to taste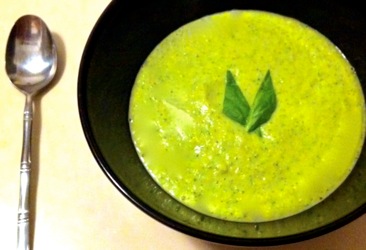 Use either green zucchini, yellow zucchini, or patty pan squash in this recipe. Today I used yellow zucchini. I also used a very flavorful homemade herbed chicken stock (made without nettles) in this soup which gave it a deep, rich flavor. You could also use vegetable stock if you are vegan. Our family finished off the entire pot this evening. If you are cooking for one or two people, you may want to freeze half of it for later. The soup should last in the fridge for up to 5 days.
Contributed by: Alissa Segersten
Source: http://www.nourishingmeals.com/
Serves 4-6
Preparation
Heat a 6 to 8-quart pot over medium heat. Add the olive oil, then the onion and saute for 5 to 10 minutes or until onion softens and is beginning to change color. Add garlic and cumin and saute a minute more. Then add chopped zucchini, white rice, and chicken stock. Cover and simmer for 15 to 20 minutes or until zucchini is tender and rice is cooked.
Add cilantro and lemon juice to the pot. Remove from heat and puree in your blender or Vita-Mix in batches. I like to toss in the whole bunch of cilantro to one of the batches after I have already pureed it some. This way the cilantro doesn't totally break down while you are pureeing the soup. Pour soup into another clean pot or bowl, stir batches together, and taste. If it needs a flavor boost, add Herbamare or sea salt to taste.
Related Recipes