Recipes
Creamy Almond Kale Smoothie
Ingredients:
2 cups raw almond milk
1/2 bunch kale
1 to 2 pears, cored and chopped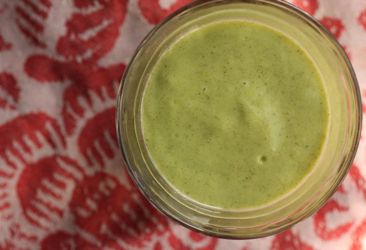 This light and creamy smoothie is made with three simple ingredients. It is so easy to make and tastes amazing! I use homemade raw vanilla almond milk which is so flavorful and full of live enzymes. I make it by soaking raw almonds in water for about 24 hours; then I rinse, drain, and blend them with fresh water, a pinch of sea salt, vanilla powder, and a dash of maple syrup. Then all you do is strain the milk though a clean dishtowel or nut milk bag to remove the pulp. You could also use Hemp Milk, cashew milk, or kefir in place of the almond milk.
Contributed by: Alissa Segersten
Source: http://www.nourishingmeals.com/
Approx. 4 cups
Preparation
Place all of the ingredients into a high-powered blender and blend until smooth and creamy. This recipe makes approximately 4 cups. Drink immediately or store in a covered glass jar in your refrigerator for up to 2 days.
Related Recipes