Recipes
Crab Louie Salad
Ingredients:
Louie Dressing:
1 pint mayonnaise
1/2 pint tomato ketchup
1/2 cup sweet relish
1/2 cup chopped black olives
2 hard boiled eggs, chopped
Crab Louie Salad:
1 head iceberg lettuce, chopped
8 to 12 ounces fresh picked Dungeness crabmeat
1 avocado, peeled, pitted, and sliced lengthwise thinly
3 tomatoes, quartered
1/2 pound asparagus spears, cooked.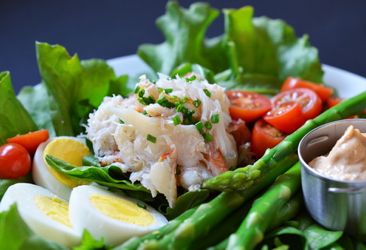 Contributed by: Rachel Ray
Source: http://www.foodnetwork.com
Serves 4
Preparation
To make dressing, mix together mayonnaise, ketchup, relish, olives, and eggs.
Make a bed of iceberg lettuce on a large plate. Top with crab, avocado, tomatoes, and asparagus. Drizzle with Louie dressing.
Related Recipes