Recipes
Chicory and Broad Bean Soup
Ingredients:
300g dried broad beans

1 large white onion, sliced
6 garlic cloves, sliced
1 1/4 lb Catalonia chicory or escarole
Pinch of chili powder
6 tbsp extra virgin olive oil
salt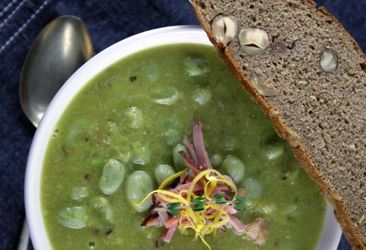 Contributed by: Lorenza De'Medici
Source: 'A Passion for Vegetables'
Serves 6
Preparation
Put the beans in a bowl, cover with water and soak overnight

Drain the beans, place in a saucepan with the onion, garlic, salt to taste and 8 cups water.
Bring to a slow boil and cook for about an hour.
Wash the chicory and slice roughly.
Add to the saucepan and cook for 10 minutes more.
Pour into a soup tureen, add the chili and the oil and serve.
Related Recipes