Recipes
Carrot-Beet Hash Cakes
Ingredients:
3 medium carrots, peeled
2 large red beets, peeled
1 large Yukon Gold potato, peeled
¼ cup all-purpose flour
2 teaspoons dried dill
2 teaspoons freshly ground black pepper
2 large eggs
Safflower or canola oil for frying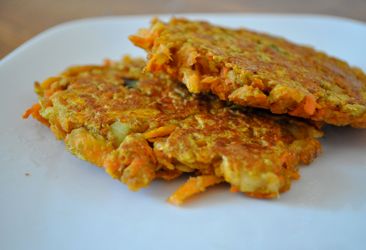 Contributed by: Jessica Goldman Foung, Sodium Girl's Limitless Low-Sodium Cookbook
Source: www.cuesa.org
Serves 4
Preparation
Grate the vegetables with either a hand grater or, for a faster solution, a food processor with a grater attachment. You should end up with approximately 2 cups of grated carrots, ¾ cup of grated beets, and ¼ cup of grated potato. But if you have more or less, don't fret. The recipe will still work.
Put the grated vegetables into some cheesecloth or just into your hands, and squeeze them over the sink into a bowl, forcing out the liquid. You'll be surprised how much juice is in there, and you want the vegetables to be as dry as possible for a solid patty and a crispy fry. And as a bonus, you can save or freeze the juice for salt-free Bloody Marys.
Place the vegetables in a mixing bowl and add the flour, dill, and black pepper. With your hands, mix all the ingredients together until well combined. Next, crack both eggs into the bowl and mix again until everything is combined. Wash your hands and set the mixture aside.
Now for the fun part. Set up a cooling rack or a plate covered with a paper towel next to your stove. This is where your fried goodies will have a place to drain off the extra oil. Put 2 tablespoons of oil in a skillet and heat over medium-high heat. To see if the oil is ready, test it by putting a small bit of the hash batter into the pan. If it hisses at you, it is ready.
With your hands, form a few loosely packed, palm-sized patties out of the batter. Using a spatula, carefully slide them into the pan. Cook the patties undisturbed until a brown crust forms on the bottom, about 5 minutes. Flip the patties to the other side and cook for another 5 minutes, again pressing on the cakes with the spatula once or twice. Remove the crispy patties to the cooling rack or the paper-covered plate and repeat with the remaining batter until it is gone. Raise and lower the heat as needed to keep the patties from burning and add extra oil if needed, keeping a thin layer of slick stuff on the bottom of the pan at all times. And if your patties do fall apart, looking more like hash than cake, don't stress. They will taste just as good.
Serve warm with some low-sodium Greek yogurt, crème fraîche, or a bit of sour cream. Or even a simple mixture of white wine vinegar, chopped garlic, and dill.
Related Recipes