Recipes
California Stir Fry
Ingredients:
1 bunch cilantro

1 bunch carrots
1bunch bok-choy
1 bunch Tokyo Turnips -Dirty Girl
Scallions
Cooking oil- Peanut/safflower/sesame
Garlic- 3-6 cloves
Ginger- 3 tablespoons or to taste
1 large yellow onion
Swiss or rainbow chard
Broccoli
1-2 bell peppers, yellow, orange or red
Smooth peanut butter
Chili sauce
Organic Soy Sauce
Massa Organic Brown Rice
Skirt Steak or vegetarian alternative- Tofu, edamame, etc.
Crushed cashews or other nut.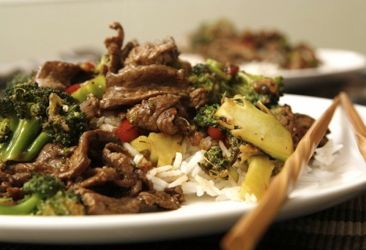 This dish is inspired by the flavors of thailand and the freshness of California local produce. I prefer to use all local and organic ingredients, the only thing imported is the chili sauce.
Contributed by: Joe Krammer- Dirty Girl Produce
Source:
Serves 2-5
Preparation
Prepare brown rice.

Chop garlic and ginger and set aside.

Prepare the marinade by adding 1tbsp each of ginger root and garlic to 1-2 cups of soy sauce.

Cut skirt steak into thin strips, pour marinade over steak and let sit for 30 minutes or up to overnight. 

Chop bok-choy (leaves only) carrots and scallions -keep all these fresh. Chop chard and bell peppers, set aside.
Chop onions, broccoli and turnips-sautee in peanut oil over medium heat until tender. Stir continuously for 5-10minutes. Add Skirt Steak.
Once the broccoli is halfway cooked, add chard, bell peppers, 1/2 tbsp each of garlic and ginger. Stir until mostly cooked.
Add peanut butter, and soy sauce- stir until completely blended, cooking over low/medium heat.
Serve over rice, garnish with fresh cilantro, carrots, bok-choy and scallions.
Sprinkle with crushed cashews or other nuts. Enjoy!
Related Recipes