Recipes
Cabbage and Sausage Soup
Ingredients:
2 tablespoons olive oil or butter
1 onion, chopped
2 stalks celery, diced
4 tablespoons parsley, chopped
1 head green cabbage (of savoy), cored and chopped
6-8 cups chicken stock
8 ounces cremini mushrooms, quartered
8-12 ounces sausage (Try a spicy variety)
10 ounces peas
Additional parsley for garnish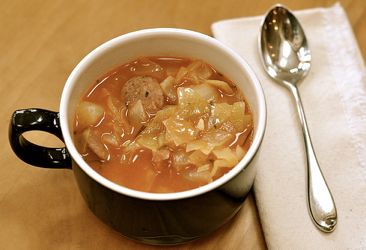 Contributed by: Santa Cruz private chef Jonathan Miller
Source: http://www.santacruzsentinel.com/food/ci_24457678/soups
Serves 6-8
Preparation
Heat the oil or butter and saute the onion and celery until softened, about 8 minutes. Add the parsley for a minute, then add the cabbage. Toss in some salt and cook, stirring, until the cabbage has wilted down, about 6-8 minutes. Add the stock, bring to a simmer, and cook slowly for 30 minutes or so.
While the cabbage simmers, cut the sausage into half moon slices and brown in a skillet. Remove the sausage with a slotted spoon, then add the mushrooms and saute until they are softened, about 6-8 minutes.
Return the sausage to the skillet with the peas and set aside until the cabbage finishes simmering.
Add sausage-mushroom-pea mixture to the soup and warm through. Taste for salt, adding more if necessary, then serve warm with additional parsley for garnish.
Related Recipes