Recipes
Blue Heron Farms Salad with Green Goddess Dressing
Ingredients:
Dressing
1 bunch chives
1 bunch Italian parsley
bunch basil
1 clove of garlic
1 shallot diced
1 bunch tarragon
2 cups cr me fraiche
1 medium Hass avocado
Juice of one Meyer lemon
Salt and pepper to taste
Salad
1 1/2 pounds Baby Blue Heron Farms lettuce
1 bunch radishes (1 1/2 cup) sliced or quartered
2 cups English peas, blanched
6 eggs boiled, peeled and quartered
1 cup Parmigiano-Reggiano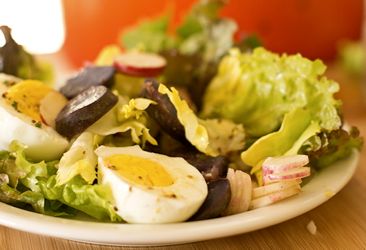 "It's not a crazy recipe," Majano said. "People think they need to spend so much time preparing, but if you have the perfect ingredients, you don't even need that much."
Contributed by: Santos Majano of Soif
Source: http://www.santacruzsentinel.com
Serves 6-8
Preparation
1. Combined all dressing ingredients including the pre-washed, rough chopped herbs. 2. Blend on medium speed until smooth. 3. Wash and dry lettuce. 4. Toss Lettuce in dressing and top with radishes, peas, eggs and shaved Parmigiano-Reggiano.
Related Recipes