Recipes
Beet, Pear and Almond Salad with Mint Dressing
Ingredients:
3 large beets, peeled
1 1/2 cups raw almonds
2 to 3 pears, cored and diced
1 large head leaf lettuce
For dressing:
1/2 cup packed fresh spearmint leaves
1/2 cup freshly squeezed lemon juice (2 lemons)
4 to 5 garlic cloves, peeled
1 small shallot (optional)
1 teaspoon whole black peppercorns
1 teaspoon sea salt
3/4 cup extra virgin olive oil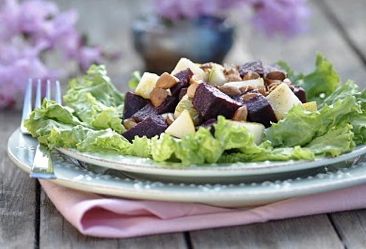 Beets, beets, I know, either you love them or have awful memories of eating canned or pickled beets as a child. Luckily I didn't have any memories of eating beets as a child so when I first tried them I fell in love. I began making fresh beet juice in my juicer, using them in cultured vegetables, roasting them with salt, pepper and olive oil, or using raw grated beets in salads.
Beets are an excellent cleansing food. The beautiful purple hue indicates that they are full of powerful antioxidants. Research indicates that beets may increase liver enzyme detoxification function, decrease the risk for colon cancer, and help to effectively lower cholesterol.
Contributed by: Alyssa Segersten
Source: http://www.nourishingmeals.com
Serves 2-4
Preparation
Prepare dressing:
Add all ingredients except for olive oil to a blender. Blend on high until very smooth, 1 to 2 minutes. Add the olive oil, blend on low speed until just incorporated. Pour into a glass jar and store in the refrigerator until ready to use. Bring to room temp before serving.
Salad:
Preheat oven to 350 degrees.
Peel beets and trim the ends off. Place into a steamer basket in a medium-sized pot. Add about 2 inches of water. Cover and cook for about 20 minutes or until beets are fork tender. Drain off water and set aside to cool.
To roast the almonds place them in an 8 x 8-inch baking dish and place into preheated oven. Bake for about 15 minutes. Remove from oven and place onto a plate to cool. Chop on a cutting board with a large knife once cooled.
Dice pears and set aside. Tear lettuce into pieces and rinse and spin dry. Assemble each salad by placing lettuce on each plate. Top with beets, pears, and almonds. Drizzle dressing over each salad. Enjoy!
Related Recipes